Welcome to Beverwijk, a small city at the Dutch coast. Beverwijk is located in the province of North Holland, at 25 kilometers northwest from Amsterdam (see the map below). The municipality of Beverwijk consists of the city of Beverwijk and the village of Wijk aan Zee. "Wijk aan Zee" literally means a neighborhood by the sea. Here you will find the widest beach in the Netherlands. You can travel from Amsterdam to Beverwijk by train. The train journey takes about 35 minutes.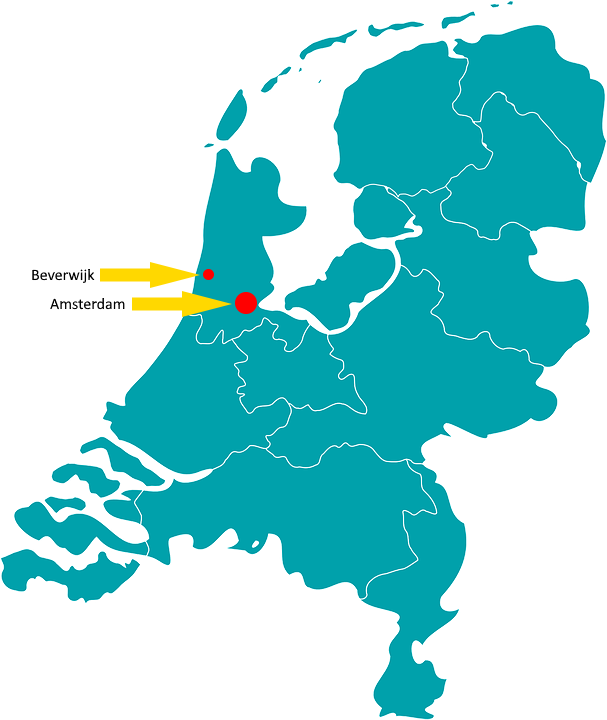 How to reach Beverwijk by train
If you depart from Schiphol Airport, you must first take the train to Amsterdam Sloterdijk. There you change to the train to Haarlem. Some trains that run to Haarlem also pass Beverwijk afterwards. If not, you have to change trains in Haarlem to Beverwijk. If you are departing from Amsterdam Central Station, take the train directly to Haarlem and follow the instructions above from there.
Chipcard public transport
To travel by public transport in the Netherlands, you need an OV Chipcard. You can purchase this card from the ticket machine at the station. It is valid for use in trains, busses and subways.
Planning your train journey
To check the train schedule and plan your train journey, please go to www.ns.nl/en and enter the desired departure location and destination location. You can also purchase an e-ticket online via this website. This is slightly cheaper than using an OV Chipcard.
How to reach my appartment
My apartment is less than ten minutes walk from the train station in Beverwijk. I have a map with the walking route available. I can send it to you via WhatsApp.
Places to visit
Perhaps you have already made a plan for your visit to Beverwijk and the surrounding area. In that case: have fun! If you don't already have a plan, here are some options to consider. First of all, you should know that Beverwijk itself is not really a tourist area. It is a working-class city that grew considerably in the 1950s and 1970s because the employees of the nearby steel factory settled here. There are several larger cities in the vicinity of Beverwijk, which are certainly worth a visit. Below you will find a short description of three cities. If you want to avoid the hustle and bustle of Amsterdam, these cities are definitely recommended.
The city of Alkmaar
The city of Alkmaar is located about 15 kilometers north of Beverwijk. This city is famous for the traditional cheese market, the beautiful historic city center with many shops and the beer museum. You can reach Alkmaar from Beverwijk by train in less than 30 minutes. Official tourist website of Alkmaar: https://www.visitalkmaar.com/en.
The city of Haarlem
The city of Haarlem is located about 12 kilometers south of Beverwijk. Haarlem is the capital of the province of North Holland. This city is famous for the Frans Hals Museum, the Teylers Museum, the characteristic courtyards and the cozy city center. You can reach Haarlem from Beverwijk by train in less than 30 minutes. Official tourist website of Haarlem: https://www.visithaarlem.com/en.
The city of Leiden
The city of Leiden is located about 40 kilometers southwest of Beverwijk, in the province of South Holland. This city is famous for the oldest university in the Netherlands, the internationally renowned museums and the old city center with canals, monumental buildings and courtyards. You can reach Leiden from Beverwijk by train in less than 60 minutes. Official tourist website of Leiden: https://www.visitleiden.nl/en.
Other destinations
In addition to a city trip, you can also choose to visit a specific location from the list below. The Netherlands has a lot to offer in every area. The best place to go therefore mainly depends on your personal interests.
Animal Farm
Zoo "Animal Farm" in Beverwijk was originally a petting zoo. Because more different animal species lived here than is legally allowed on a petting zoo, the organization had to convert this facility into a zoo. That process has been completed successfully. Estimated visit time: 30 minutes. Website: https://www.animalfarm.nl (available in Dutch language only).
Zaanse Schans
Looking for wind mills? The Zaanse Schans is a historic Zaanse neighborhood founded in 1963 in the municipality of Zaanstad with national monumental wooden buildings and industrial mills from the Zaan region relocated there. Over time, it has been supplemented with various cultural-historical museums, craft shops and catering establishments. Estimated visit time: 2 hours without museum visits, 4 to 6 hours with museum visits. Website: https://www.dezaanseschans.nl/en.
Keukenhof
The Netherlands is known worldwide for its flower cultivation. The Keukenhof is a flower park northwest of Lisse, in the Dutch province of South Holland, where bulbous plants from horticultural companies from the bulb region are exhibited annually in the spring. The park, established in 1949, is 32 hectares in size. It is the largest attraction in the Netherlands, with more than one million visitors per year – more than 75% of which come from abroad. Estimated visit time: 3 hours. Website: https://keukenhof.nl/en.